Are you ready to grow an epic beard for a great cause? Look no further! Acccolph Incorporated is thrilled to invite you to participate in our exciting No Shave November competition, dedicated to raising awareness and funds for Prostate Cancer.
By joining our competition, you will have the chance to showcase your impressive beard-growing skills and make a meaningful contribution to the fight against Prostate Cancer. All $20 entry fee proceeds will support Prostate Cancer awareness initiatives.
Here's what you can expect as a participant: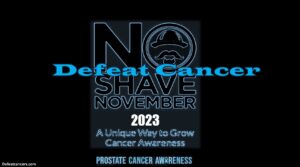 🏆 The chance to win the title of the Best Beard of No Shave November!
📸 Your winning beard will be featured on our website and Facebook page, gaining well-deserved recognition.
🎁 Exciting prizes await the winner, making your victory even sweeter!
But that's not all! You'll also be eligible for a tax deduction by donating and participating in our competition. Your contribution will directly impact Prostate Cancer awareness efforts, helping to save lives and spread crucial information.
So, what are you waiting for? Join us in the fight against Prostate Cancer this No Shave November! Visit our website to sign up, learn more about the competition, and make a difference today.
Acccolph Incorporated is here to support you every step of the way. Feel free to reach out if you have any questions or need assistance. Together, let's defeat cancer and raise awareness for Prostate Cancer during this special month.
I appreciate your support, and let the beard-growing begin! 🧔🎗️