Unite in the Fight:
Discover "Defeat Cancer" Merchandise to Show Your Support!
Join the Movement to Make a Lasting Impact! Imagine a world where lives are saved, early detection is celebrated, and we unite as a community to combat prostate cancer. At DeFeat Cancer®, our mission is to fight prostate cancer and raise awareness about its significance. As a cancer survivor, I deeply understand the profound importance of early detection and the life-changing effect it can have on men everywhere. To support our cause and show your solidarity, we invite you to explore our exclusive "Defeat Cancer" collection. By wearing our apparel or using our branded items, you become an advocate for early detection and a symbol of hope for those affected by prostate cancer.Not only will you be making a statement, but a portion of the proceeds from each purchase goes directly towards, support programs, and awareness campaigns. Together, we can make a difference and bring us closer to a world without prostate cancer. Together, let's raise our voices, wear our passion, and spread the message: Defeat Cancer!
All donations are tax-exempt. Your generosity supports our mission and allows you to receive tax benefits for your contribution.  Donating makes a meaningful impact in the fight against Prostate Cancer.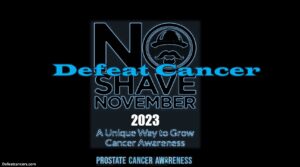 "Defeat Cancer" ®

 Wristband Bracelets
Every penny goes directly to cancer charity when you purchase the "Defeat Cancer" Band. Join us in our mission to Defeat Cancer by ordering your wristband today for just $.99 each.  We sincerely appreciate your support and are thrilled to have you on board.  Please don't hesitate to reach out if you have any questions or need more information. 
Thank you for your interest and support. Help us to Defeat Cancer®.
"Your purchase is tax-deductible and will contribute towards cancer education, awareness, and care, ultimately aiding in the fight against cancer."
We have some exciting news to share with you! We are delighted to inform you that all purchases made with us are tax deductible.Yes, you heard it right! By choosing to support DeFeat Cancer® through your purchases, you not only get the products or services you love, but you can also benefit from potential tax savings.